Get one for you and a loved one!
This is a very meaningful ring
This can be used not only as a marriage ring, but also as a gift for a wedding anniversary and for your own work.
Inspired by the ancient armillary sphere, the ring can unfold like one.
This astral souvenir is a must-keep for those who are fascinated by the sky and beyond.
Closing is a RING, when opening is the UNIVERSE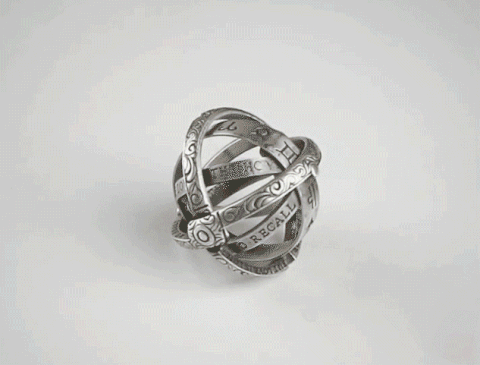 When it closed, they look like any other ring, but as the different bands are fanned out, the rings take on a unique quality. Built with anywhere between two to eight moving bands, these intricate pieces of jewelry would need to have been executed by skilled craftsmen.
STANDS FOR LOVE WHILE THE RING WAS MERGED! STANDS FOR THE WHOLE WORLD WHILE THE RING WAS OPENED!


Combined is a delicate ring, unfolded is an astronomical sphere, fingertips hidden the temptation of the entire universe
This combination of machinery and jewelry design, both jewelry and toys, full of fun.
It's the best and special gift for a friend or for your lover.
SPECIFICATIONS:
Color: Gold/ Silver
Material: Copper (Gold plating / Silvering)
Size: 5-11
Thickness: About 0.35cm

Size detail see the pics

Wight: About 10g
SIZERing Size Guide
To determine size by measuring your finger
Cut a thin strip of paper or thread long enough to wrap around the chosen finger.
Wrap the paper around your finger, just above the knuckle, and mark the point the two ends meet.
Measure the paper using a ruler.
Find that measurement on the Ring Sizing Chart to locate your size.
TRY PIC